Date: 2022.11.3
Guests: IEMAI General Manager Jiang | WANHUA General Manager Xie
Introduction: IEMAI has been cooperating with WANHUA in the field of 3D filament and pellets for a long time. At the 2022 TCT Asia Exhibition, the two companies had a brief exchange.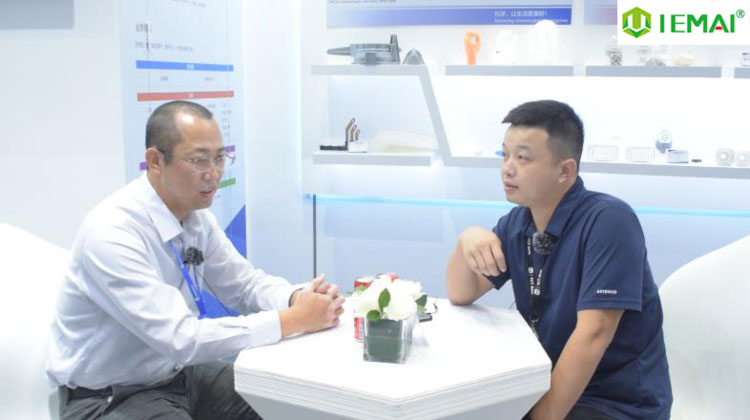 The following is interview record:
Question 1
IEMAI Mr. Jiang: What new products or some more interesting and core products do you bring to TCT this time?
WANHUA Mr. Xie: For WANHUA, one of the key points this year is the PA12 production line, which has been fully completed on October 19 and has begun to supply, which has broken all foreign monopoly problems. WANHUA 's production capacity is 10,000 tons, which can fully meet the needs of the 3D printing industry. Another core product is TPU. For TPU, we are doing all kinds of products, including granule material, FDM wire, SLS powder and jet printing.

Question 2
IEMAI Mr. Jiang: In terms of the development of FDM, what can we do to improve in the future?
WANHUA Mr. Xie: Judging from the experience of previous TCT exhibitions, the customer base is becoming more and more professional, driving these manufacturers, service providers, and material suppliers to become more professional, so it may be necessary to focus on problems that cannot be solved by a certain company in one field, and do a good job for each supporting plan to provide customers with a complete set of solutions that can solve practical problems.

Question 3
IEMAI Mr. Jiang: In the whole 3D printing products, what are your ideas and layouts in the future?
WANHUA Mr. Xie: What needs to be done in the future is to bring decentralized processing solutions to customers as far as possible, and make a complete 3D printing system that can cope with different scenarios. In the early stage, it may be convenient for designers, and in the later stage, it can make a small processing center for small and batch production. A system can solve many kinds of problems, which is the most critical point of 3D printing. It should be uniqueness and charm.

IEMAI Mr. Jiang: We hope to cooperate with Wanhua more deeply in some special application scenarios in the future, and then work hard for the customer experience and the performance of the final part.
Here are the profiles of the two companies:

Wanhua Chemical Group Co.,Ltd. is among the global leading suppliers of chemical innovative products. Relying on the continuous innovation, commercialized facilities and efficient operation, the company provides customers with more competitive products and solutions.
Wanhua Chemical has always been adhering to innovation and optimizing industrial structure. Our business covers polyurethanes, petrochemicals, performance chemicals and emerging materials.The industries include homeware and furniture, sports and leisure, automobiles and transportation, building and construction, electronics and electrical appliances, personal care, and green energy.
Wanhua Chemical has built up six key production complexes in Yantai, Ningbo, Sichuan, Fujian,and Zhuhai in China, and Hungary, which are integrated with complete supporting facilities. To provide our customers worldwide with competitive products and comprehensive solutions, Wanhua has established R&D centers in Yantai, Ningbo, and Beijing in China, as well as in North America and Europe, set up subsidiaries and offices in more than ten countries and regions including Europe, the United States, and Japan.
Wanhua Chemical will take "Advancing Chemistry, Transforming Lives" as the first mission. we are committed to providing customers with stable, high-quality, competitive products and efficient services, and to being a responsible supplier and industry leader. We will continue to innovate in the field of chemical new materials, lead the development of the industry, and create a better life for mankind!

Dongguan Imai Intelligent Technology Co. Ltd. is a high-tech enterprise in China focusing on 3D printing R&D and production. Its brand IEMAI 3D is a global industrial grade 3D printer brand, committed to provide users with the "All in one" 3D printing solution of multi material compatible issue. IEMAI 3D supports most of the thermoplastic materials in the 3D printing markets and assist the user to resolve the issue encounter during manufacturing, and all 3D printers and materials have achieved CE and ROHS certification. We attach great importance to brand building and have obtained trademarks certificates from China, United Sates and the European Union. We pursue core technology research and development, and have obtained software copyrights, invention patents, utility model patents, appearance design patents, and the title of national high-tech enterprise. At present, our 3D printing solutions have been applied to aerospace, automotive, petrochemical, medical and electronics manufacturing.