Wants To Try Out The Software On Yourself?
Wants To Know What Affects The Final Quality?
Wants To Print Out The Prototype By Yourself ?
Feel Free To Download And Try It Out !
SLICER:IEMAI 3D EXPERT 1.0
IEMAI3D EXPERT is our own slicer tool with rich-features which contained all the things you need for printing the best  prototype with your IEMAI3D printers.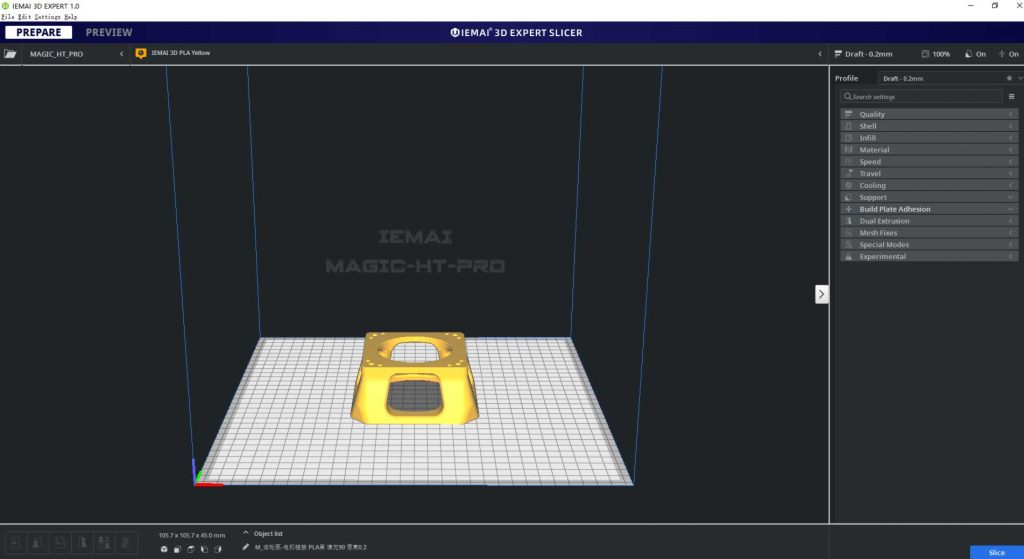 Simple User Interface
Some open-source software on market is diffcult to use, user need to understand what every features stands for and how it affect the prototype quality and surface finish.
Our Slicer will allow the user to have an excellent experience without the need of much knowledge and able to print good prototypes.
Fast And Detailed Surface Finishing
In our slicer, you can choose the parameter of the supports for each nozzle separately such as the support shapes, angles and where the supports begins.
Apart from that, you can set the layer height for each region of the model,which allow you to save more time in regions that required lesser detail and printing detailed at those required parts.
Post Process Setup
In our own Slicer, you can choose a post-process setting in it, such as colour changed at specific region. The printer will stop and changed extruder/ filament  to continue printing with different colour.
User may also write their own G-code for other process during  printing. 
Support All Materials
We have most of the common filament profiles in the market, with simple click the most suitable printing parameters will be tuned for you.
Apart from that, it also have the printing parameters for high-performance materials which is tough to print as not only extruder temperature need to be considered but also heat bed and chamber temperature; thus our Slicer will provide you the mosy suitable solutions.
Choose Your Own Supports
Sometimes, you might find the generated supports not suitable for your model or the system feels that in certain region support is not required. 
In IEMAI 3D EXPERT, you can choose the region to generate supports and even the shapes of support at each region.
More Features
Multiple Languages
Cooperate Of Solube Supports Printing
Copy & Paste Function
Auto Arrangement
High Extruder Temperature To Support Most Of The High-Performance Materials In Market
Quick Detachable Extruder Allow User To Have Simple Maintenance
Support Printing Of Soluble Materials 
Built-In Moisture-Proof Cabinet To Store/Bake Filament While Printing
Large Print Bed Allows More Options For Users
Excellent Heated Chamber
     Provide High And Uniform Temperature When Printing High-Performance Materials    
     Great Layer Adhesion 
     High Mechanical Strength
     Low Mechanical Stress
     Low Warping/Cracking
Interest In Our High-Temperature / Industrial-Grade 3D Printer , Feel Free To Contact Us