IEMAI launches large Granular 3D printer with length, width and height of 1.5m, extrusion temperature up to 500°C, will support high performance materials such as PEEK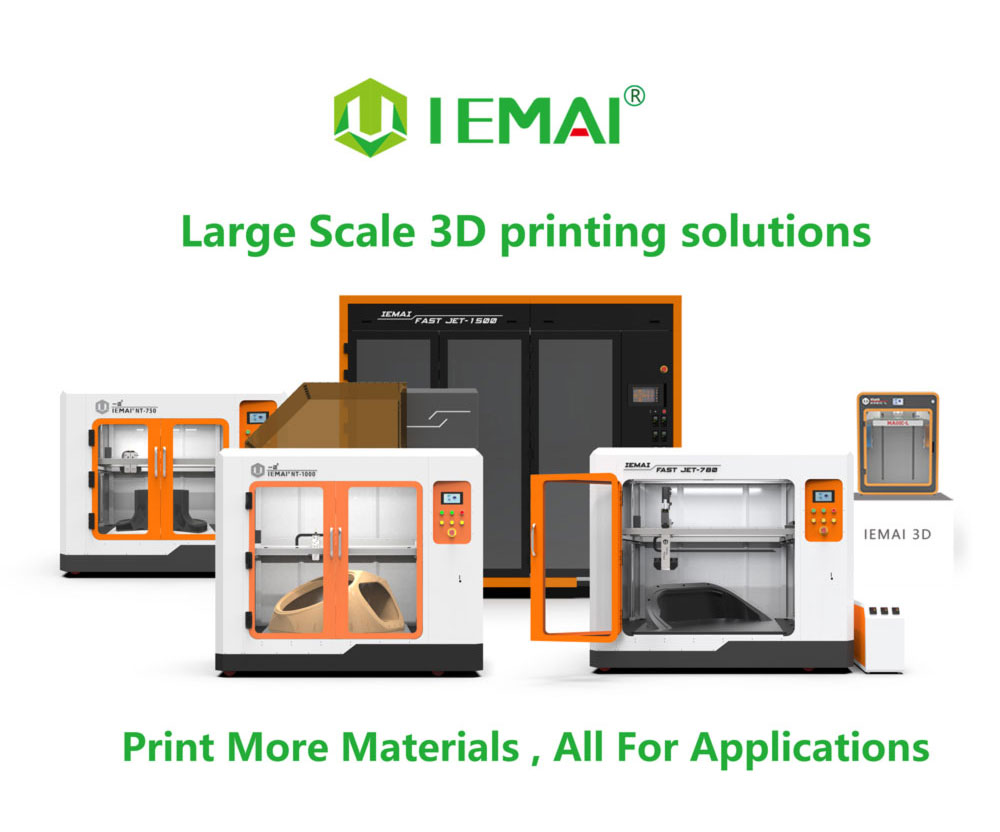 Preface: All 3D printing filaments are made from pellets, so why not skip the filaments and 3D print directly from pellets? This would save even more material costs. Furthermore, are pellet 3D printers as compatible with a wide range of materials as filament printers? Especially with high performance 3D printing materials.
In January 2022, IEMAI launched the FAST JET 1500, a granular 3D printer with a print size of 1.5 metres in length, width and height.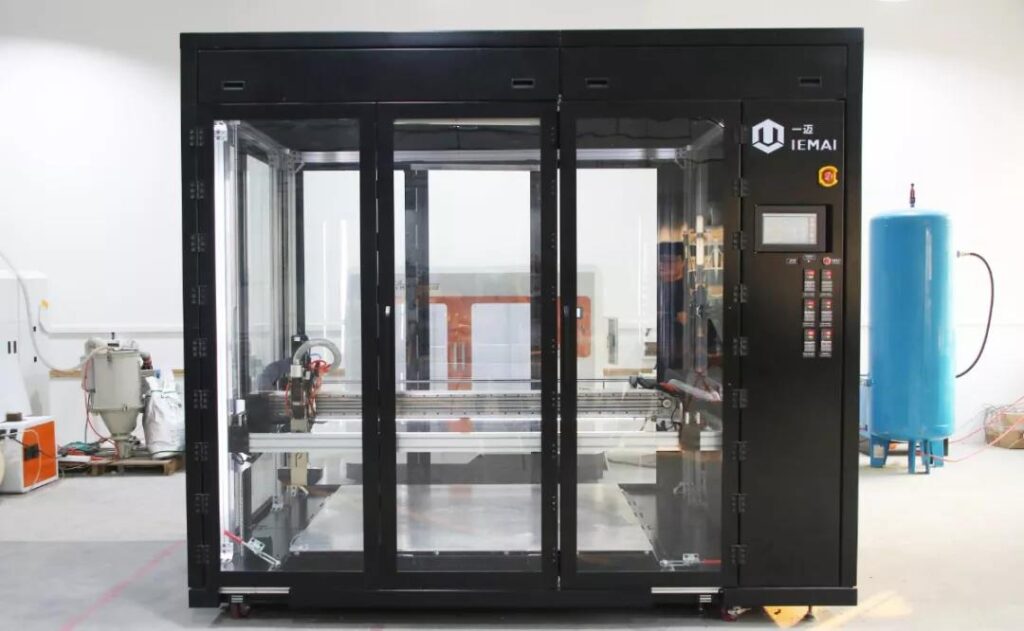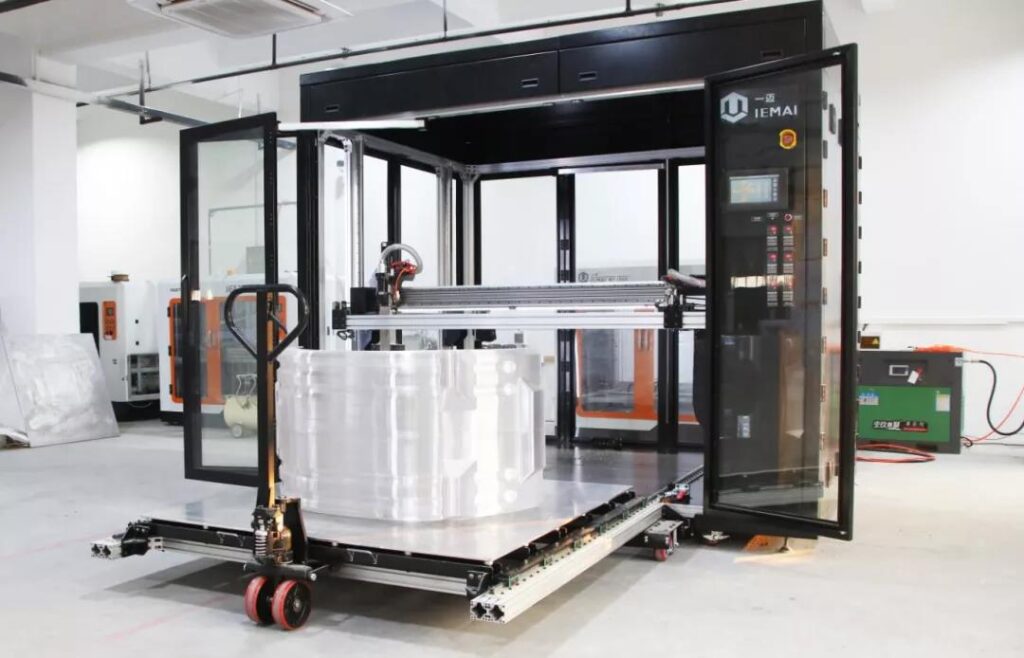 FAST JET 1500: Opening and taking the Printed Model
This machine not only has a large print size and can directly work with pellets, but also has an increased extrusion temperature of 500°C, a three-stage extrusion temperature control system and a closed insulation chamber, enabling it to support the majority of thermoplastic pellets on the market, including high performance materials such as PEEK and PEKK.
The FAST JET 1500 has a printing size of 1.5 x 1.5 x 1.5m, a built-in 25kg dryable material hopper, a self-developed 6-axis control system (currently in use is 4 axes, the remaining is reserved for expansion ports) and a 10″ full colour touch screen with remote automatic loading function. In addition, the FAST JET 1500 will be one of the first models to go on sale with a built-in IEMAI cloud platform, allowing users to remotely control the drying of materials, upload G-code files, print at regular intervals and monitor the printing process remotely.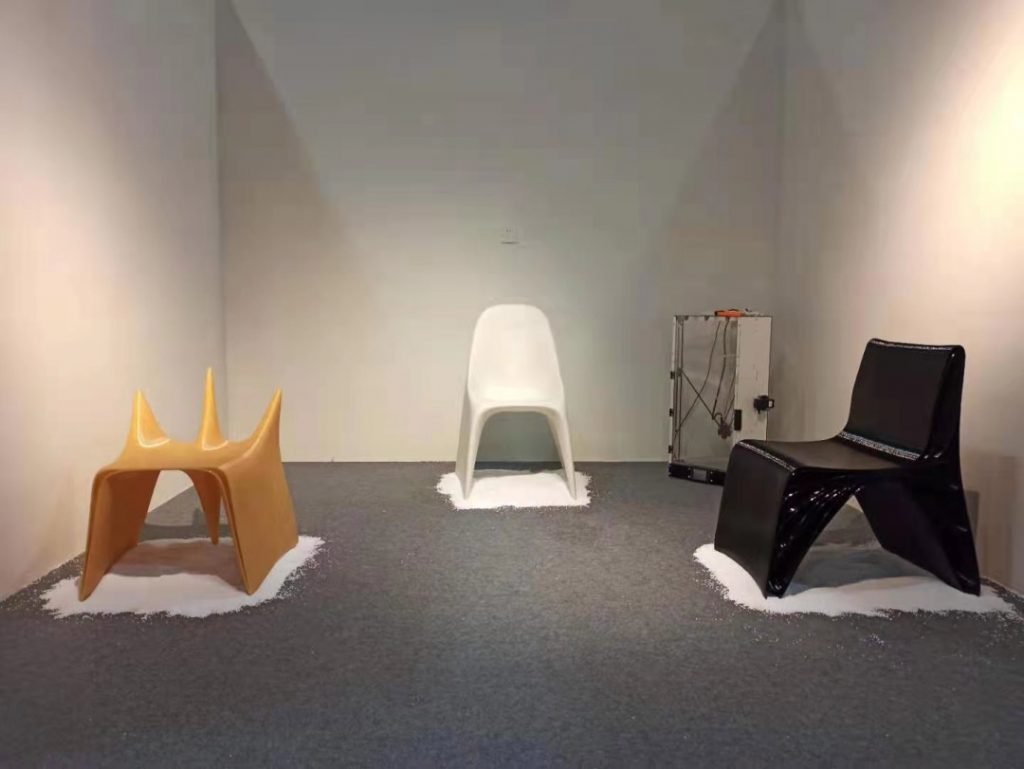 Designer (Zhang Jian Xiang)
Polymaker Pellet | Printed By IEMAI

The first FAST JET 1500 will be shipped and delivered before the Chinese New Year.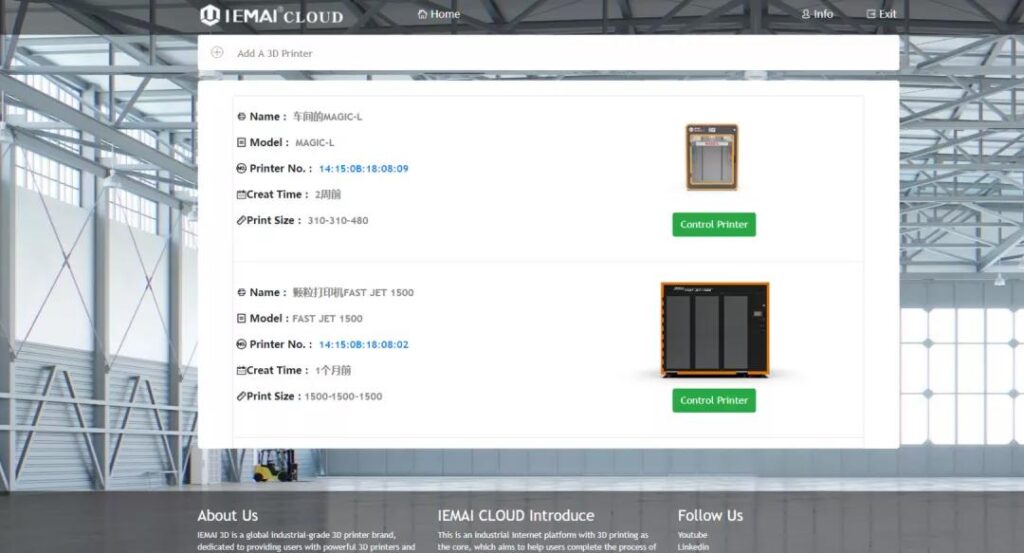 The FAST JET 1500 has a maximum extruder temperature of 500°C, liquid cooling and a maximum throughput of 6 kg/h. The modular design allows the user to choose between high temperature or normal temperature extrusion heads and to change them quickly.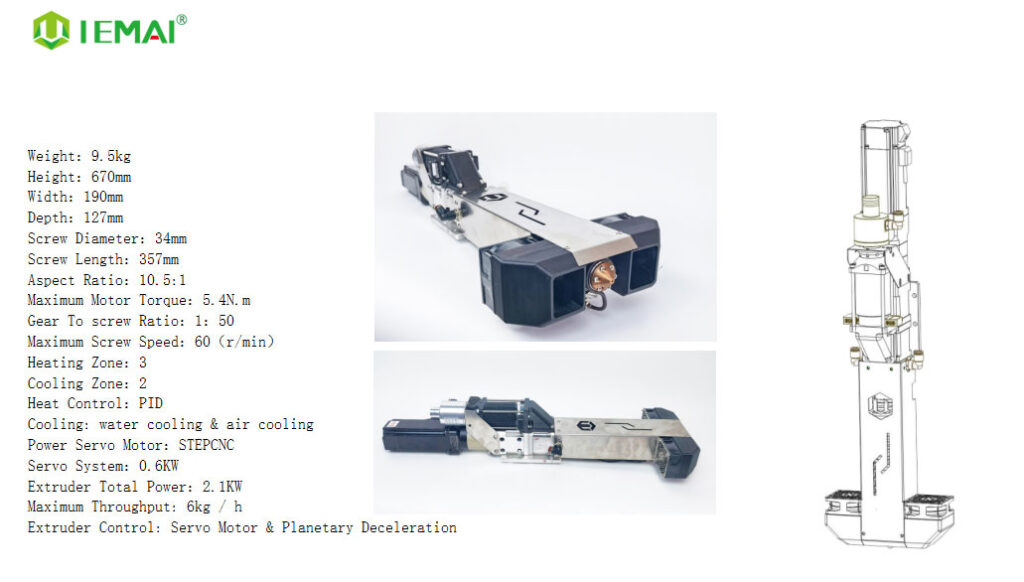 Techanical Parameter of IEMAI Pellet Extrusion System
Thanks to IEMAI accumulation of material processes in FDM high temperature series 3D printers and its shareholder Songhu's production experience on 3D printing filament extruders, IEMAI is able to quickly access the upstream process resources and downstream applications of thermoplastic granules, and has already conducted printing tests on dozens of different brands of raw materials.
The process of different materials requires a long time to figure out and test before a relatively stable production process can be arrived at. For this reason, IEMAI has set up its own printing process department, equipped with several independent printers and testing instruments, dedicated to creating a material system and forming process that is perfectly matched to the machine.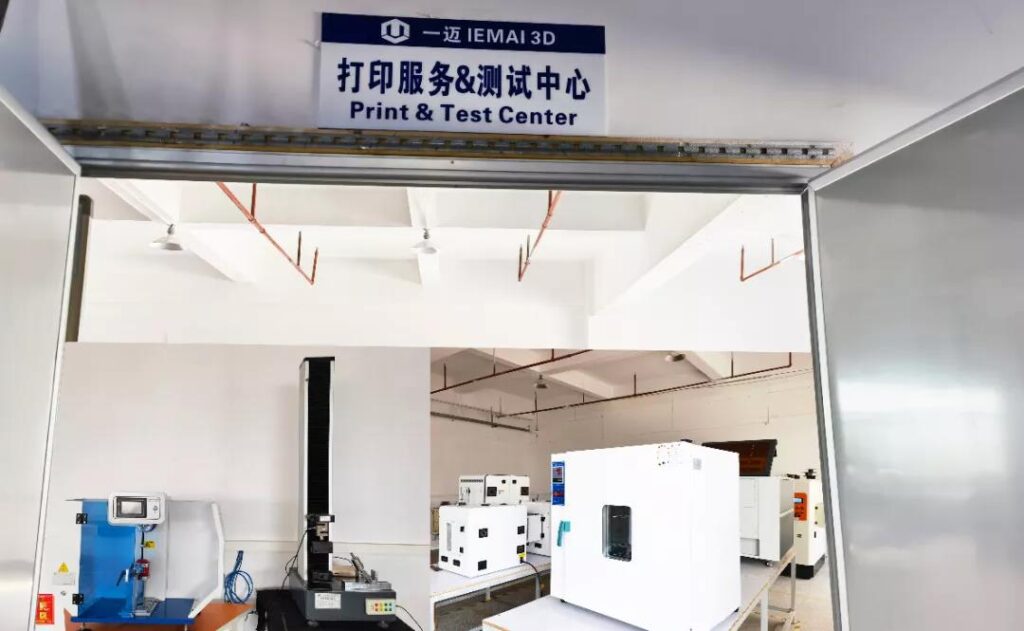 IEMAI Process Testing Centre (Part)
Compared to Fused Filament Fabrication (FFF), 3D printing with pellets is more efficient and less costly, as it is closer to traditional injection moulding or extrusion processes, and the performance of pellet printed parts is often higher than that of filament printing.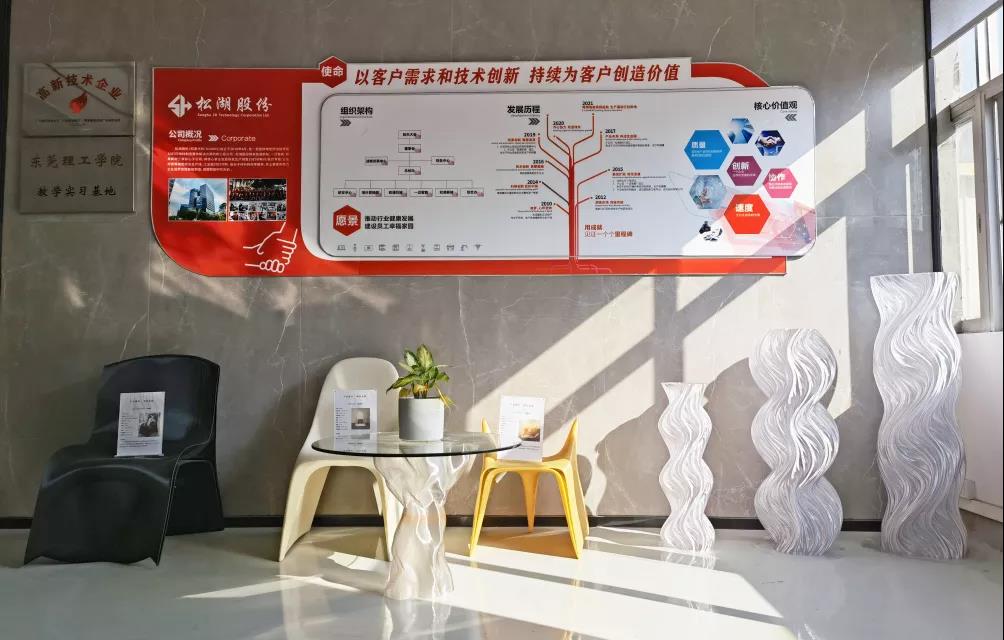 IEMAI Furniture Showroom (Part)
However, the disadvantages of pellet printing are also obvious, the extra large throughput makes its layer very tall, the line width is very large, the control of the screw can't be as precise as the gears control the filament in and out, resulting in some serious pulling back, therefore, the details of small manufactured parts can't be perfectly rendered. The current granular 3D printing is such a clear advantages and disadvantages of the manufacturing process, and the end customer demand is extremely important, in many application scenarios, IEMAI began to gradually release the advantages and charm of particle printing, and the disadvantages have been mature solutions to solve, such as increasing and decreasing material mix, fine post-processing, etc..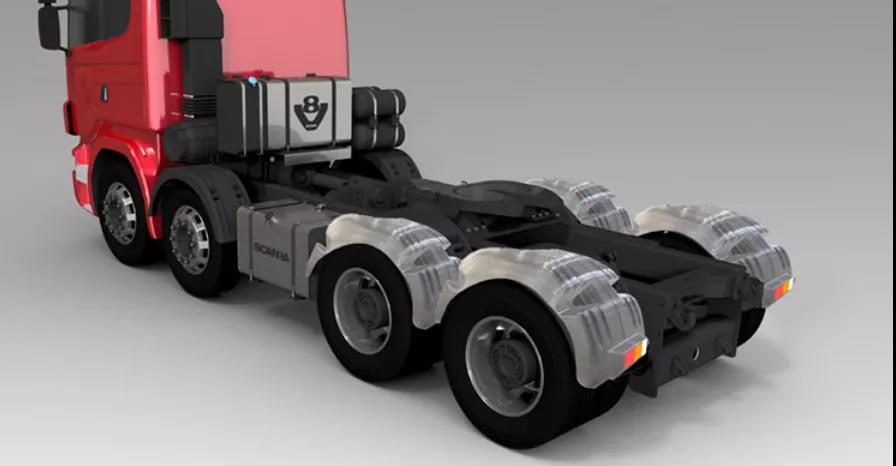 Truck Fender (SK Material)
Even so, a great deal of work has been done on process control to better control back-drawing, optimise interlayer bonding and avoid deformation and warping due to strain.

↓↓Brand Introduction of IEMAI 3D↓↓
Imai Intelligent Technology Co. Ltd. is a high-tech enterprise in China focusing on 3D printing R&D and production. Its brand IEMAI 3D is a global industrial grade 3D printer brand, committed to provide users with the "All in one" 3D printing solution of multi material compatible issue. IEMAI 3D supports most of the thermoplastic materials in the 3D printing markets and assist the user to resolve the issue encounter during manufacturing, and all 3D printers and materials have contained CE and ROHS certification. We attach great importance to brand building and have obtained trademarks certificates from China, United Sates and the European Union. We pursue core technology research and development, and have obtained software copyrights, invention patents, utility model patents, appearance design patents, and the title of national high-tech enterprise. At present, our 3D printing solutions have been applied to aerospace, automotive, petrochemical, medical, dental and electronics manufacturing.